The inflatable air track set is a good inflatable mattress for gymnastics. With them, people can do exercise together in a happy atmosphere such as jump, dance, and roll, etc. Our products use DWF material. The size and type can be made as you like after our discussion. And we have strict quality control to ensure every product be of the highest quality. All our products are sold at factory price. Besides, we will promise we can do all we can do to make you satisfied.
Characteristics:
1, Inflation within 3 min.
2, Easily adjust the pressure to your preference
3, Suitable for any gym
4, Portable and small in storage
5, No noise during training because continuous inflation is not required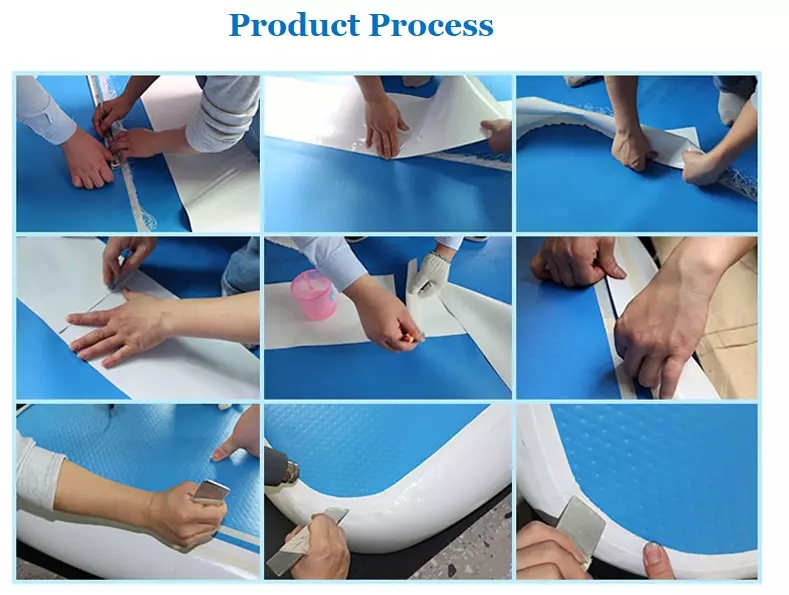 Advantages of inflatable air track set
1.Very light and easy to move around the gym.
2. The air track can be placed on the gym floor, the rod floor, the artistic gymnastics floor, etc.
3. The required OV10 blower is very light
4. The pressure is easily customized within seconds
5. Inflating and deflating is done in a single minute
6.No noise during training
7. After inflation, the air track will maintain its pressure for hours, refill only takes seconds
8.Easily portable from gym to gym. The Air Floor is so light and small it will easily fit on the back seat of your car.
9. The takeoff is soft, which helps prevent injuries.
10. The Air Floor will allow you to jump higher, giving you more precious airtime to work on your technique.
11. Jumps can be repeated more often with less chance of overuse injuries than on traditional training equipment.